There are many ways of increasing an engine's power output, depending on the results you want. The power output does not mean anything unless it relates to an engine speed in rpm.

This means, for example, that an extra 5 hp from an engine produces very different results, depending on whether it is obtained at 6,000 rpm or at 9,000 rpm from the same engine :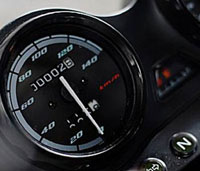 In the first case, the engine will provide the power more easily at low and mid-range revs. This produces considerably better acceleration, even uphill (especially uphill!) and reaches top speed more quickly than before with the same load, but it does not increase the top speed because the engine will be less efficient at high revs (as maximum torque will be produced at lower revs).

In the second case, the engine will be less responsive at low revs and will require revving to produce all its power. Obviously, you must change gear more to keep up the revs, which is inconvenient = riding is less pleasant and ultimately weakens the engine, gearbox and transmission ("sporting" riding).

If the power is produced at higher revs, on the other hand, the highest possible gear ratio acceptable by the engine can be used and a 10-20% absolute top speed increase can reasonably be expected in many cases if maximum revs is also increased slightly, with a flat power curve, if the rider balances the gear ratio with the engine load properly. If there is a hill, or even an incline or a strong headwind, however, the absolute top speed will drop. You must be aware of this fact and choose accordingly, depending on what results you want to achieve.